Featured Author - Deepak Chopra


About the Author


Deepak Chopra is the Founder and Chairman of the Chopra Foundation, and Founder and Co-Chairman of the Chopra Center for Well Being. Known as the prolific author of over 55 books with eighteen New York Times best sellers on mind-body health, spirituality, and peace, Times Magazine heralds Chopra as one of the top 100 heroes and icons of this century. He is the bestselling author of numerous books including Ageless Body, Timeless Mind, Creating Affluence, Quantum Healing, Unconditional Life, Perfect Health, and Return of the Rishi. His groundbreaking lectures and books blend physics and philosophy, the practical and the spiritual, venerable Eastern wisdom and cutting-edge Western science with dynamic results. A global force in the field of human empowerment, Dr. Chopra's books have been published in more than thirty-five languages in both fiction and non fiction. His book, Peace Is the Way (Harmony Books) won a Quill award, and The Book of Secrets: Unlocking the Hidden Dimensions of Your Life was given a Nautilus award.
---
Products by this Author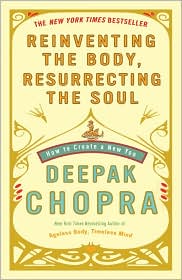 Reinventing the Body, Resurrecting the Soul: How to Create a New You

Fifteen years after his #1 New York Times bestseller, Ageless Body, Timeless Mind, Deepak Chopra revisits "the forgotten miracle"–the body's infinite capacity for change and renewal. You cannot take advantage of this miracle, Chopra says, unless you are willing to completely reinvent your body, transforming it from a material object to a dynamic, flowing process. "Your physical body is a fiction," Chopra contends. Every cell is made up of two invisible ingredients: awareness and energy.
Using Chopra's ten steps to wholeness, you can harness those basic elements to change the distorted energy patterns that are the root cause of aging, infirmity, and disease.
Transformation can't stop with the body, however; it must involve the soul. The soul–seemingly invisible, aloof, and apart from the material world–actually creates the body. Only by going to the level of the soul will you access your full potential, bringing more intelligence, creativity, and awareness into every aspect of your life.
Reinventing the Body, Resurrecting the Soul delivers ten breakthroughs–five for the body, five for the soul–that lead to self-transformation. In clear, accessible terms, Chopra shows us how to commit ourselves to deeper awareness, focus on relationships instead of consumption, embrace every day as a new world, and transcend the obstacles that afflict body and mind.
Click to order
Reinventing the Body, Resurrecting the Soul: How to Create a New You paperback book
---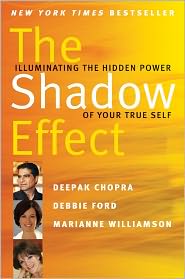 The Shadow Effect: Illuminating the Hidden Power of Your True Self

Deepak Chopra, Debbie Ford, and Marianne —New York Times bestselling authors and internationally acclaimed teachers—have joined together to share their knowledge on one of the most crucial obstacles to happiness we face—the shadow. These three luminaries, each with a signature approach, bring to light the parts of ourselves we deny but that still direct our life. For it is only when we embrace our shadow that we discover the gifts of our authentic nature.
The shadow exists within all of us. It is a part of us and yet we spend most of our life running from it. But far from being scary, our dark side holds the promise of a better, more fulfilling life. Our shadow makes itself known every day. It is the reason we get furious over a friend showing up ten minutes late, yell at our parents or kids when they have done nothing wrong, and sabotage our own success at the worst possible time. Until we are able to embrace our dualistic nature, we will continue to hurt ourselves and those closest to us and fall short of our potential.
Combining the wisdom of three experts, The Shadow Effect is a practical and profound guide to discovering the gifts of our shadow. These three authors powerfully pierce the veil of our unclaimed self, releasing us from the past and propelling us on a journey to wholeness. No longer living a half life, we are capable of achieving our dreams and reclaiming the happiness that is our birthright.
Click to order
The Shadow Effect: Illuminating the Hidden Power of Your True Self paperback book
---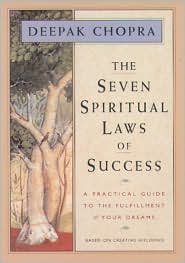 The Seven Spiritual Laws of Success: A Practical Guide to the Fulfillment of Your Dreams

Based on natural laws which govern all of creation, this book shatters the myth that success is the result of hard work, exacting plans, or driving ambition. In The Seven Spiritual Laws of Success, Deepak Chopra offers a life-altering perspective on the attainment of success: Once we understand our true nature and learn to live in harmony with natural law, a sense of well-being, good health, fulfilling relationships, energy and enthusiasm for life, and material abundance will spring forth easily and effortlessly. Filled with timeless wisdom and practical steps you can apply right away, this is a book you will want to read and refer to again and again.
Click to order The Seven Spiritual Laws of Success: A Practical Guide to the Fulfillment of Your Dreams
hardback book