Child Sexual Abuse - Recommended Products
Developing a positive body image and a healthy mental attitude is crucial to a person's happiness and wellness. A negative body image develops when someone feels his or her body does not measure up to what society thinks the right shape and size. Today's media images are main culprits in why people feel they don't measure up to the standards of beauty commonly seen in the media. To learn more about celebrating and appreciating your natural body shape and to understand that a person's physical appearance says very little about their value as a person, explore the books suggested below.

---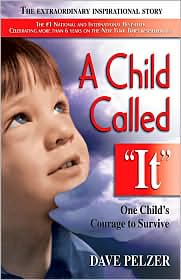 A Child Called "It"
by Dave Pelzer
This book chronicles the unforgettable account of one of the most severe child abuse cases in California history. It is the story of Dave Pelzer, who was brutally beaten and starved by his emotionally unstable, alcoholic mother: a mother who played tortuous, unpredictable games—games that left him nearly dead. He had to learn how to play his mother's games in order to survive because she no longer considered him a son, but a slave; and no longer a boy, but an "it."
Dave's bed was an old army cot in the basement, and his clothes were torn and raunchy. When his mother allowed him the luxury of food, it was nothing more than spoiled scraps that even the dogs refused to eat. The outside world knew nothing of his living nightmare. He had nothing or no one to turn to, but his dreams kept him alive—dreams of someone taking care of him, loving him and calling him their son.
Click to order
A Child Called It: One Child's Courage to Survive
paperback book.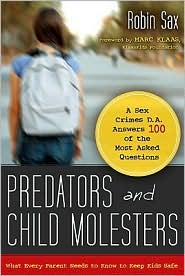 Predators and Child Molestors: What Every Parent Needs To Know To Keep Kids Safe
by Robin Sax
There is no crime—not even murder—that worries and sickens parents more than child sexual abuse. Parents wonder how to protect their children when almost every day the news reports another incident of someone in authority arrested on suspicion of child abuse—from clergy and teachers to family members themselves. Even law enforcement has had trouble defining the problem.Amid the confusion generated by sensational news reports and uncertainty regarding the nature and extent of child sexual abuse, what can parents do?
In this straightforward, clearly written guidebook, veteran sex-crimes prosecutor and Los Angeles deputy district attorney Robin Sax answers one hundred questions that she has most often encountered in her fifteen years of experience. From the definition of abuse to the profiles of a predator to how to report an incident and to whom, Sax provides practical, reassuring, and appropriate information.
Sax concludes by emphasizing that the best defense against sexual offenders is information. Her book provides realistic answers to empower parents and educators, even in the face of one of life's scariest threats.
Click to order Predators and Child Molesters: What Every Parent Needs to Know to Keep Kids Safe
paperback book.
The Little Prisoner: How A Childhood Was Stolen and A Trust Betrayed
by Jane Elliott
When Jane Elliott was four years old, the nightmare began. She became the helpless victim of a sociopath—bullied, dominated, and sexually abused by a man only fourteen years her senior: her stepfather. For nearly two decades she was held prisoner, both physically and emotionally. But at the age of twenty-one she escaped . . . and then she fought back.
The Little Prisoner is the shocking, astonishing, and ultimately uplifting true story of one woman's shattering twenty-year ordeal—and how she triumphed against an evil and violent human monster when honesty and bravery were her only weapons.
Click to order The Little Prisoner: How a Childhood Was Stolen and a Trust Betrayed
paperback book.
Also see: Abusive Relationships, Anxiety/Panic Disorder, Self Esteem & Self Confidence, Sexual Abuse, Women's Issues